SolidGigs Resource Library
Courses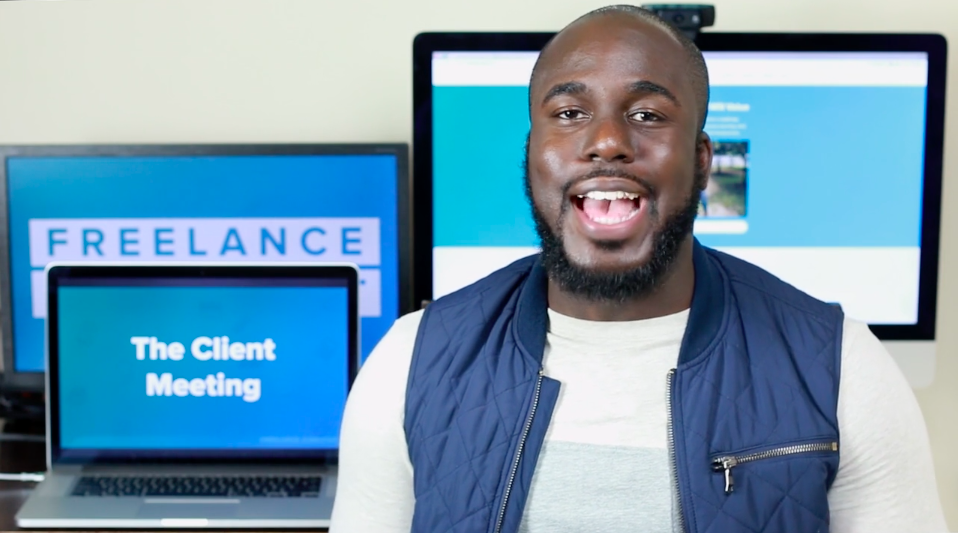 Increasing your ability to win projects
Freelancer & educator Nathan Allotey reveals how you can increase your ability to close deals with your ideal clients.
Selling as a freelancer
Sales expert Bruno Padilha shares his best advice for freelancers who are ready to step up their sales game.
Working with clients you love
Freelance expert Ian Vadas teaches what it takes to work with clients you actually love by using his client process map.
Work From Anywhere
Digital nomad Jake Jorgovan, explains how to successfully earn an income remotely using your existing skills, and have the freedom to work from anywhere in the world.
Attracting high-value clients
Freelancer & educator Nathan Allotey explains how you can attract high-value clients and avoid low-ballers and tire-kickers.
Cold emails that convert
Solopreneur Preston Lee dives into the process he uses to routinely close 5-figure deals with strangers.
Contact your dream clients
Solopreneur Preston Lee reveals how you can define & identify your ideal client, uncover their email address, and contact them successfully.
Charging what you're worth
Freelancer & educator Nathan Allotey reveals how you can charge what you're really worth as a freelancer.
How Much Should You Charge?
Freelancer April Greer explains how to value your work, charge what you're worth, and make a living doing what you love. 
Have something to teach?
We work with talented experts to license quality courses and other resources for our community. Think you'd be a good fit? Contact us.
Interviews
Pitching high-profile clients
with Ryan Robinson
Six-figure freelancer, Ryan Robinson shares the techniques he uses to land huge clients like Google, Adobe, and Linkedin
Turning one-off clients into retainer revenue
with Chelsea Baldwin
Freelancer-turned-agency-builder Chelsea Baldwin answers all your questions about upselling to get retainer agreements.
Using Instagram to get clients & boost revenue
with Dina Rodriguez
Artist and Instagrammer, Dina Rodriguez share the methods she uses to double-dip on revenue from her creative business.
Converting portfolio visitors to paying clients
with Jared Gold
Website conversion expert, Jared Gold, gives us his best advice for converting portfolio visitors into actual customers & clients.
Scaling your freelancing without giving up freedom
with Paul Jarvis
Freelancer turned online entrepreneur, Paul Jarvis, shares his strategies to scaling a freelance business without having to grow it.
Passing six figures in 1 year of freelancing
with Rob Palmer
Full-time freelance & entrepreneur, Rob Palmer, shares his tactics to approaching freelancing with a target of reaching six-figure income.
Reaching six-figures income in first year of freelancing
with Rob Allen
Freelance copywriter, Rob Allen, shares how he made $5000/month in recurring income from his clients + how SolidGigs helped him get there.
Share your expertise with us.
If you've got something valuable to share with our community, we'd love to interview you. Think you'd be a good fit? Contact us.
Resources
Getting more clients from your website 
by Matt Olpinski
50 pages packed with actionable advice you can use to improve your website and start attracting more clients today.
The Perfect Project Proposal (Template)
by Matt Olpinski
An effective proposal should be should be properly designed, well-written, and free of legal jargon. With this proposal template, you'll impress more clients and win more projects.
14 Point Freelance Business Plan (Template)
Craft your freelance business strategy & increase your chances of finding success.
Price Increase Letter (Template)
Learn all about a price increase letter – what it is, reasons to send it, when to send it plus a free template to download for yourself.
Cold Email Outreach (Template)
by Rob Allen
Freelance Copywriter and Email Magician, Rob Allen, shares his cold email script that will get clients scrambling all over you for your services!
Freelance Invoice Templates
6 free invoicing templates to simplify your freelancing process.
One Page Business Plan (Template)
A quick-to-use template + guide, tailored particularly to freelancers & solopreneurs.
Client Response Scripts & Templates
15 Proven client email templates to help you run your service-based business more smoothly.
Master Financial Spreadsheet
by Matt Olpinski
Getting paid is important, but what do you do with the money once you have it?  With these 5 powerful spreadsheets, you'll keep your finances in check and save more money in the process.
Getting your first client with SolidGigs
by Preston Lee
Solopreneur Preston Lee shares his entire process for searching, finding, pitching, and ultimately landing your dream gig.
Spread the love & share your resources.
We work with talented experts to license ebooks, scripts, templates and other resources for our community. Have an idea of something you'd like to share? Contact us.
Articles
How I turn full-time job listings into perfect freelance gigs
by Chelsea Baldwin
Freelancer-turned-agency-builder Chelsea Baldwin shares her own process for converting job board listings into profitable client relationships.
How to find high-paying clients from job-boards
by Jorden Roper
Freelancer and founder of creativerevolt.com, Jorden Roper explains her strategy to finding work from job-boards, so you can start winning high-paying work.