Freelancing has become a buzzword in the current business arena. Recent freelance statistics disclosed the data showing the interest of people for freelancing work is surging towards a new height. 53 million people were self-employed with freelancing work criteria in American countries in 2014 and witnessed consistent growth with passing years.
Graph disclosing the growth of freelancing work in the US from 2014-2020.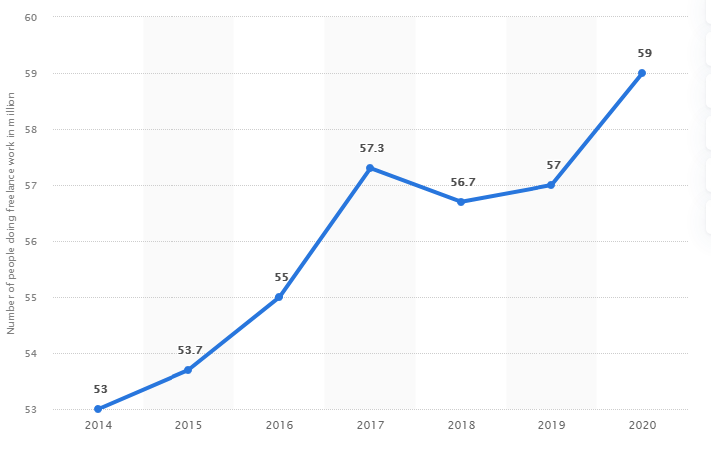 But if you're feeling burnt out from searching for new freelance clients, don't fret—every freelancer goes through it. Some weeks you'll get $1500; the other, you may not even get any of the clients. Such inconsistency is to be expected and this article will guide you to a few feasible ways to find new freelance clients.
1. Visit "

Career" Sections On Websites

The majority of the companies provide a career section on the footer of their website. Be A Part Of Our Company; We Are Hiring, Join Our Team, Career, Work With Us, etc., are few examples that many companies use for providing opportunities to the new talent.

Find the company which is suitable for your field and apply for work. For example, if you are looking for web development work, you can google the best companies for web development. Visit the company's website and check if they are providing jobs. If your skill set matches the requirements of the company, you'll surely get the offer.
2. Browse Freelance Job Boards
There are numerous websites running their personal job boards. Such websites are posting valuable jobs for different sectors. Job boards provide a wide range of job options that ease the work of finding new clients for every freelancer or self-employed individual.
Ensure that you explore the right website. For designing, writing, or marketing works, Remote.com is a valid website. Furthermore, for graphic and web designing works, the Smashing Magazine job board is a good option. You can find copywriting works on ProBlogger Job Board.
Don't panic if you're enabled to get orders from the suggested job boards; you can manually search for a job board of your field. Simply type "jobs board" "content writing" on the google search bar. The list of the content writing job board will be available. Check out job boards for any field with this format of search.
You can also hire us to do the job board searching for you.
3. Search Craigslist
Most people are mistaken by thinking of craigslist only for housing services or for buying used car parts. Fortunately, Craigslist has a separate section for exploring jobs from different parts of the world. Mind that US cities are providing maximum remote work. So, selecting any city in the US would be a wise choice for any freelancer to find their client.
Check out the job and temp job option on craigslist to search the valuable work matching your field. Learn that using specific keywords would lead you to the particular work that you are looking for.
4. Leverage J

ob Search On Stack Overflow

Stack overflow is mainly developed to benefit the developers. Software, web, and mobile developing works can be easily found on stack overflow. It has a separate section for remote jobs where freelancers can find valuable jobs.

A freelancer with developing skills must sign in on stack overflow, upload an updated resume and apply for the jobs that are matching their skill sets.
5. Get Alerts fromHacker News
Hacker new can be an excellent source for freelancers to find clients instantly. Whoishiring submissions play an effective role in providing works.
One can comment and contact clients or apply in the job posts uploaded by different companies. One must use keywords like seeking a freelancer or seeking work on hacker news to contact the relevant companies.
6. See What's on

Dribbble, Behance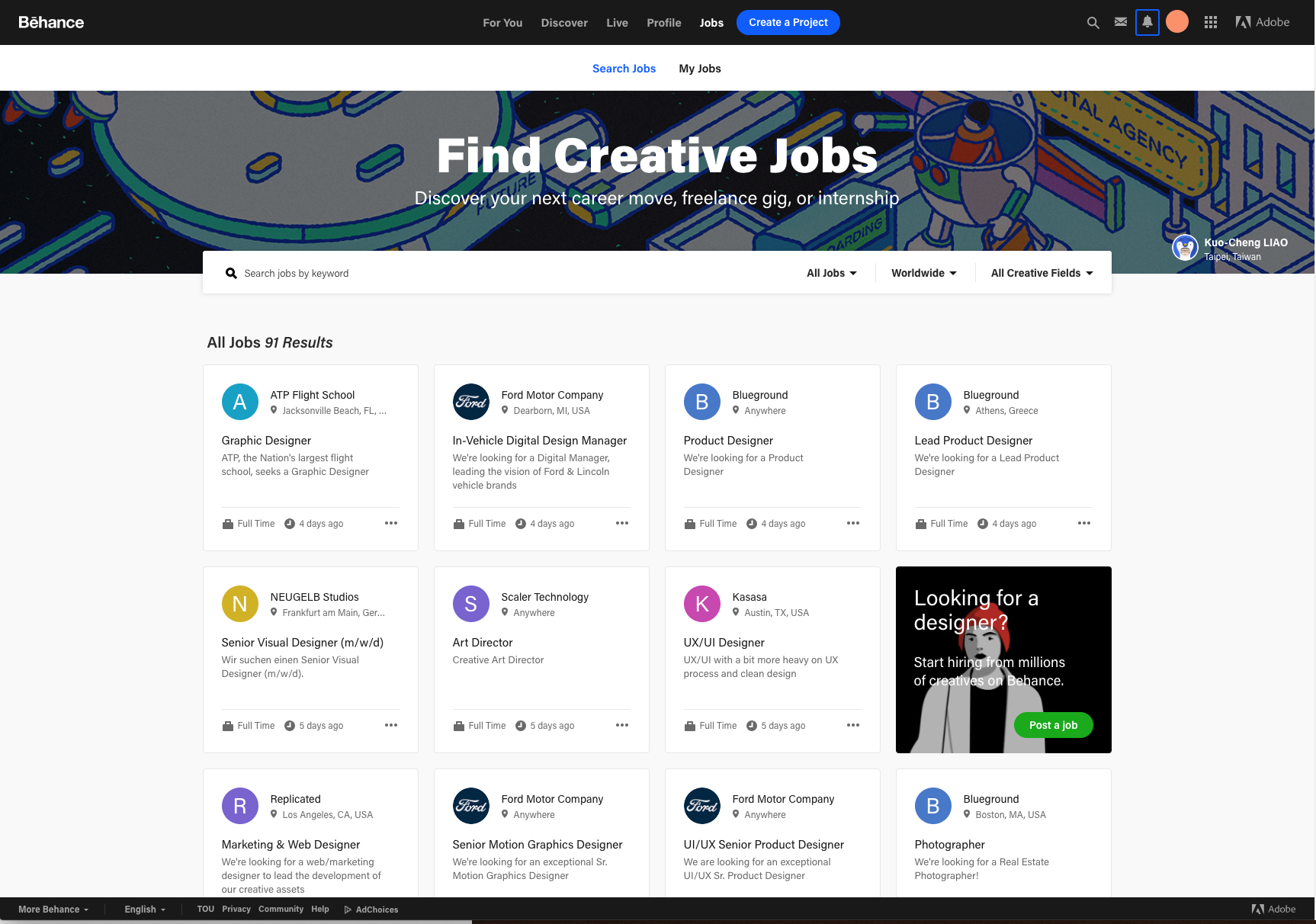 Source: Behance
Dribble and Behance are well-known mediums to search designing works. They are a considerable source of networking for every creative designer and photographer.
A job section on Dribble and Behance could lead you to the projects of prominent and successful companies. All that you have to do is apply to your favorite company and convince them with an impressive portfolio.
6.

Subscribe to Email Newsletters

Newsletters are gradually gaining importance amongst freelancers. Writers who are new in the career of freelancing must put stress over subscribing to newsletters. It shares the important stuff of writings and gets the high-paid project offers.

The Freelancer Feed and Freelance Writing Job are the best newsletters. One can easily find others on Google as per their interest.
7.

Join a Co-Working Space

The idea of Co-Working space is growing as it allows the growth of work patterns. When you work with like-minded individuals or individuals from distinct fields, you're like to connect and share a bond.

For a freelancer, Co-Working spaces would help to build a broad network which will allow further to connect with potential clients. Joining the Co-working space communities of your field would be responsible for transforming your work life. It'll boost the quality of the work and give you opportunities to sharpen and polish your skill sets.
8. Pitch Directly to Clients
For every freelancer, mastering the art of pitching is essential. There are few things to consider for generating compelling pitches.
Ditch appraising your strengths and skills. Your work samples or your portfolio is enough for showcasing your skills.
Discuss how you can contribute to your client project growth.
Never hesitate to give free tips.
9. Harness the Power of Social Media
Facebook
Initially, people joined Facebook to connect with their school buddies after years. However, with passing years it has become a powerful marketing weapon in the business arena. If you are into the writing profession, you can share abstracts of your works and get feedback from interested audiences.
Tedious work for contacting the niche audience is no longer required as Facebook allows you to be visible in the target market. You can connect with individuals of your niche by interactions in the comment section.
Twitter
Twitter has the advanced search option for finding specific jobs considering particular locations. With Exact keywords, you can effortlessly find new clients.
The other exciting feature of Twitter benefiting freelancers is Twitter lists. Most people are unaware of the Twitter list benefits. Such lists provide you instant opportunities to grab the order. For example, a graphic designing work is posted at 11:am. Within a few moments, by 11:15 am, the post will be closed with the best suitable hiring.
You can create a list of your niche and keep checking and applying in the relevant posts. Also, big companies prefer searching for out-sourcing work on Twitter.
Instagram
Instagram is a hub for designers, the best platform for showcasing visual talent. You can utilize your Instagram account as a portfolio. Graphic designers can create an impressive account by uploading their prior works. The right hashtags would add value to your work by growing its visibility among the niche audience.
However, Instagram could not be your ultimate way of finding the client, but it adds value by creating a better image among your network. And further, connect you with worthy clients in the long run.
Wrapping Up
For continuing freelancing work for the long term, you must know how to acquire clients. One must be open to converse with other freelancers; they can share the ideas to convince the client and even give references to the client.
Many proficient freelancers are having plentiful orders that they have to let go of most of the offers; contacting such freelancers would get you clients with little effort.
You can probably find a relevant client if you know how to play your cards right in the industry of your interest. Your family, friends, professional connections, anyone could get you clients through recommendations.
Try out the unique ways suggested in this article to never get out of your freelancing work.