If you have been in SEO and content marketing for some time, then, you know there are so many ways for SEO marketers to make good money as freelancers.
Why is that? Well, if you are wondering what comes first while searching just about anything online, it is the content. And content writing is something that every company requires continuously, irrespective of its scope and scale.
There's a catch, however.
There's a lot of competition for freelance work, and good content writers are hard to find. But there are some ways to stand out and get your career going as an SEO writer.
Here are some of them:
1. Keep yourself updated with the latest SEO trends
Many SEO content writers have found the freelancing career enjoyable, but it can be quite a struggle to get started. After all, Google's algorithm updates and changes in SEO metrics come so frequently, and they often revamp their preferred marketing strategies.
For instance, companies like Google are pushing to retire third-party cookies, making it crucial for businesses to build first-party data hubs for targeted and customized marketing initiatives.
It's not something to worry about if you keep yourself updated with the latest SEO trends. Other such trends include focusing on user search intent, optimizing for different search platforms, refreshing existing content, improving page speed, and so on.
Keeping yourself updated with the latest trends will also help you stay in demand.
2. Build a portfolio
It's essential to build a portfolio that will give your clients a real feel for your ability and the quality of writing skills that you produce. It goes without saying that the content in your portfolio should be well-written, updated, engaging, and should suitably demonstrate your skillset as Freelance SEO Content Writer.
Here are some ways to create a well-rounded portfolio:
Collate your previous publications.
Start your own blog.
Start guest posting on third-party sites.
Pick and focus on a niche.
Join and be active on LinkedIn and other social media platforms.
Don't forget to add referrals and testimonials to your portfolio page. A LinkedIn hiring report suggests that the #1 way people find out about a new job is through a referral.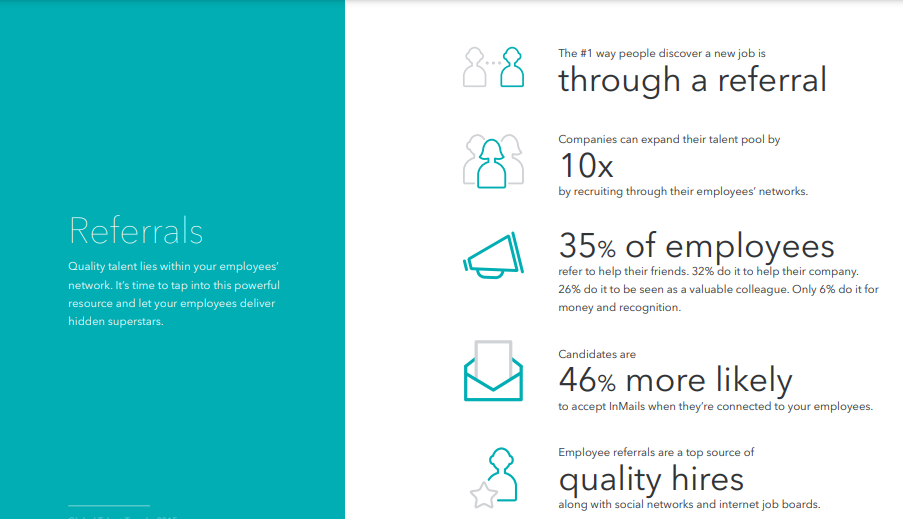 If you're a beginner and don't have much to display, you might want to create your own samples.
Don't forget to add your name and contact information and include it at the top of your portfolio to make it more discernible.
3. Set up a website
Not surprisingly, prospective clients and employers will look you up online. What are they going to find? If it's a basic resume on LinkedIn and nothing else, it may not pass muster with the gatekeepers who have the power to make you an offer or hand out a pink slip.
Create an appealing website that showcases your skills to stand out among countless other writers and appear more professional in front of potential clients.
When you set up a website, you will have a landing page on the internet for potential clients to find you, learn about what you have to offer, view your portfolio, and reach out to you if they're interested.
Plus, the content you post on your site will reinforce your portfolio and showcase your writing to your potential clients.
While at it, converge it with the above point and use your website as your portfolio as well. You can dedicate one webpage to your portfolio or blog to showcase your best SEO articles.
4. Master your research skills
Some clients will offer you a list of keywords for your content, but others will not. You will have to develop a keyword list by yourself. For such cases, you need to have stellar keyword research skills in your arsenal.
You need to come up with a list of the most relevant topics founded on the knowledge you have about the business and research-related keywords.
Consider researching your client's competitors to determine how they are ranking for these keywords. You can then implement a tool like the Google Ads Keyword Planner to trim down your list.
However, you don't have to over-optimize your content or stuff keywords. It's best to insert the keyword in your headline and copy naturally.
5. Use job boards
Apart from creating a website and putting up your portfolio, you need to leverage sites and job boards that advertise jobs for freelancers.
Job boards can help you advance your career by connecting you with in-demand SEO content writing jobs. The internet has changed how businesses find and recruit new talent, and so many businesses are turning to job boards to fill outstanding job openings. Some examples are sites like Upwork, Freelancer, Indeed, Toptal, and Flexjobs. You should also consider surfing niche job boards.
6. Use social media
Gone are the days of pounding the pavement looking for a good job. Correctly leveraging social media can make finding a great gig easier than ever.
Social media has for some time now been a necessary instrument to gain visibility, build trust and establish yourself in any industry. As an SEO freelance writer, posting frequently on social media channels like Facebook, Twitter, Linkedin will make your work and expertise more visible to potential clients.
In fact, 35.5 million people got hired after building connections on LinkedIn. These platforms are great for posting the results you brought for your clients (in terms of traffic, rankings, leads, revenue, etc.) and showcasing your skills.
7. Use the right SEO tools
Being a Freelance SEO writer involves having the right SEO software to use to achieve the best results from your content.
Many of your peers and competitors might be able to write like you, but not many will offer SEO services along with the content. You have the chance to provide additional services and separate yourself from the competition.
Luckily, there are both types of SEO tools, both free and paid, that can improve your SEO game.
Tools, such as Google Analytics and Ahrefs, are acclaimed by SEO experts and more than sufficient for most SEO needs. Google Analytics is free to use and will help you monitor and report on different SEO metrics.
Another tool you can use is SEMrush. It is an all-in-one tool that lets you do SEO, competitor research, content marketing, PPC marketing, and social media marketing on one platform. Price plans range from professional to business level, and you can choose any plan according to your requirements.
Likewise, many other tools can strengthen your SEO writing. So, make sure you use them to advance your career as a freelance SEO writer.
8. Earn references and reviews
If you want to grow your career as a freelance SEO content writer, getting references from previous clients is important. The best way to do that is to make the client feel so satisfied that they feel compelled to give you a reference. Then, when you apply for a new job, social proof can help seal the deal.
You can post them publicly on your website, social media pages, and portfolio pages to get noticed by prospective clients. Or, if you are using job portals, they usually have a section dedicated to reviews where clients and freelancers can leave their reviews.
For instance, here is an example of clients' reviews garnered by an SEO writer on Upwork.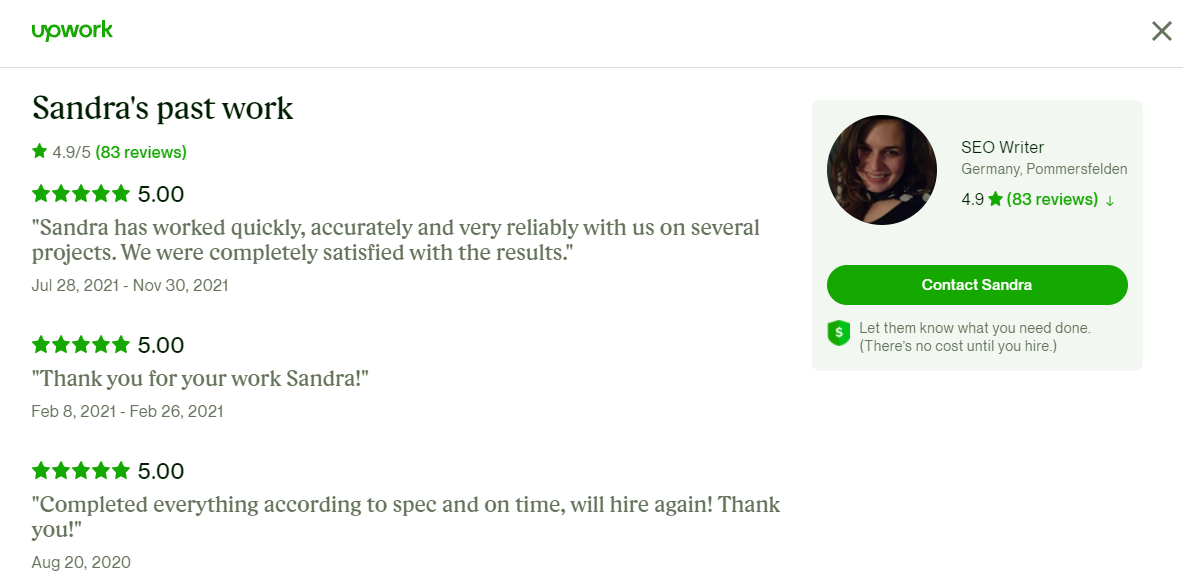 Create an email template for asking for reviews from your clients. This way, you can also easily compliment them about the pleasant experience you had working with them.
…And That's a Wrap!
SEO Content Writing is an essential part of digital marketing for most companies. Having an SEO Content Writer on the team will help them develop strong content for their websites, which is key to ranking highly in search engines.
Naturally, smart Freelance SEO Content Writers aware of the various trends and changes in the field can grab good opportunities, especially in 2022.
Remember that there is a lot more than just writing quality when it comes to SEO content writing. You need to market your previous works or any relevant portfolio or writing samples to convince potential clients that you are competent in high-quality SEO content writing.