Hiring freelancers is no more a need; it has become a necessity for many businesses these days. It has opened unimaginable possibilities for people with practical skills to start a freelancing profession on the side. The approach is eventually growing due to a continuous consultant profession.
"The more robust economy offers optionality and instant, and as a result, people see freelancing as a long-term choice, and fewer are doing it on a traditional job approach."
A CNBC report shows that dedicated and expert freelancers can easily earn 70% more than the U.S. workers working traditionally. The working approach offer business and people with numerous benefits like:
Fewer taxes;
Eliminate the need for extra space;
Decreases employees expenses;
Saves time of traveling;
The flexibility of working.
There are many more benefits of the freelancing business approach. Today most businesses, including delivery, seek freelance content writers, developers, digital marketing experts, testers, etc., helping them achieve success in their business niche. However, numerous freelance job sites are cropping up the demand of today's workers. All these opportunities are getting much better with each passing day.
Learn to Start Your Freelancing Journey Successfully
More than 63% of respondents in the Phoenix survey responded that they own their own business or worked as freelancers. Many of you need to be their boss; however, 55% are waiting to be their boss. And those who want to get self-employed by starting as an entrepreneur can start their journey as freelancers.
It is resilient and comfortable to begin freelancing with a perfect trading plan, get self-employed, or earn more along with your day job. Within decades, freelancers are expected to satisfy the preponderance of workforce heritage. Additionally, it's found that more than 44% of millennials and 50 percent of Generation Z are already working as freelancers these days.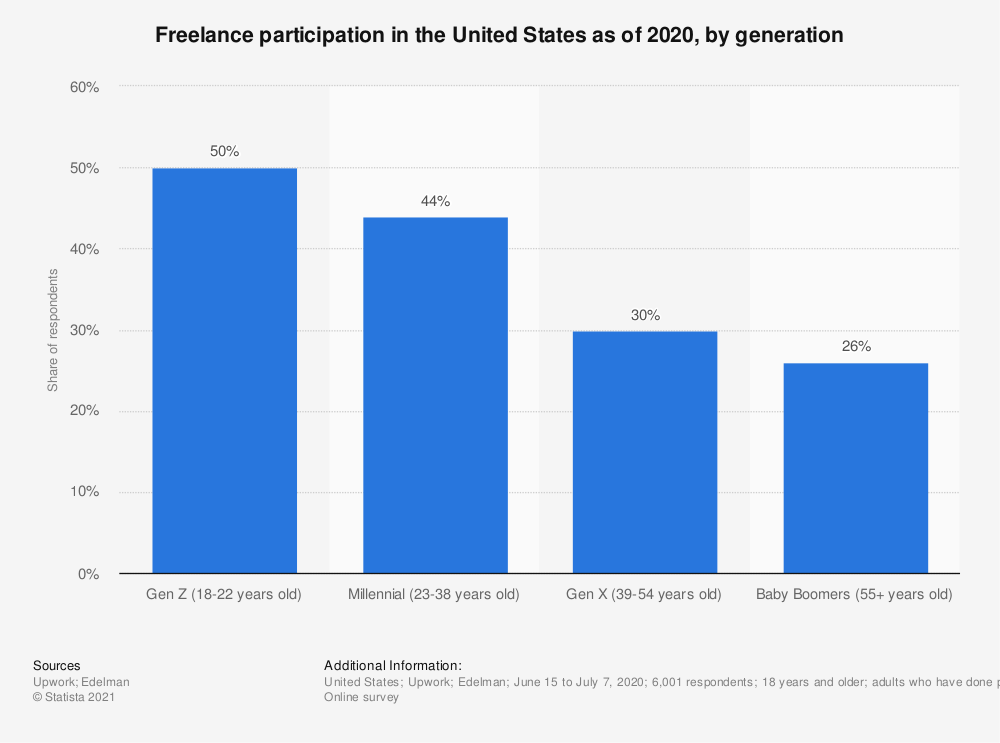 Image: (Source)
More than 54 million Americans have to start the freelancing profession as it provides them with numerous advantages. However, it permits individuals to leave the lifestyle they love the most. The definition of work has changed for many due to COVID 19 spread; it has changed numerous things. Now brands aren't looking for "brick and mortar" space to work; they consider work from home a better option.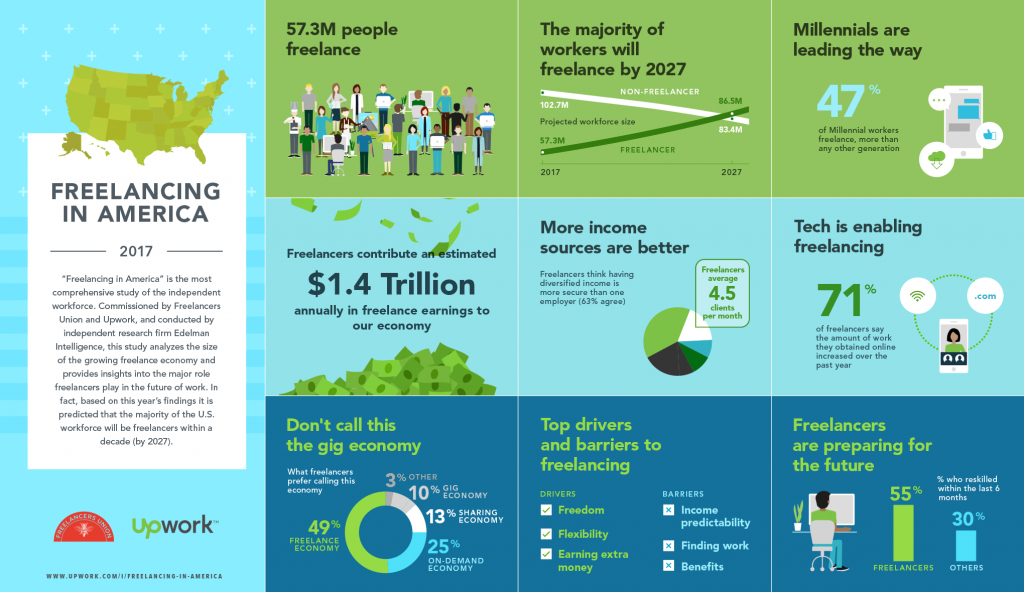 Image: (Source)
Most of us love the versatility to work whenever and whoever. And freelancing enterprise provides individuals with it. Remote working is the best method for many people these days. Starting a legal freelance profession can provide you with the ability to choose with whom you want to work, offer them skills you're excellent with, and earn extra that also from the convenience of your sofas.
Are you looking to start your freelancing journey? Are you new to the department and don't exactly know what to do and from where to start? Then check the complete guide to start your journey right away. We have brought a few practical tips to help you out with your startup and ensure success ahead.
1. Identify Your Intentions
When you begin your freelancing journey, you necessitate knowing why you need to begin it. Once you understand your goal, it will assist you in determining the level of success. Without identifying the goal, you can't get the desired result. Hence to decide what you want to get, answer few questions like:
Is it meant to earn extra money along with your prime job?
Are you seeking a chance to become your own boss?
Do you require to gain complex targets by advancing your career as a freelancer?
Finalize your goal for starting work as a freelancer as it helps you plan and implement practical tips to achieve the desired result ahead. Take enough time to know what you can provide the best to your clients, whether you can offer:
Mobile app and development service?
Blog and article writing?
Website design?
Make sure to compose an intelligent move helping you to achieve your targeted goal in less time. For example, you can start with small business goals at the initial level and jump to a bigger one later to grab success.
2. Get The Right Equipment
Some of us make unfortunate decisions when we're despondent. Hence it would be easier if you did not start freelancing to earn extra money as it does not relate to making more pennies in exchange for your skills. It would be best to work hard to achieve targeted goals. Freelancing is not a get-rich-quick scheme.
It needs a lot of stubborn effort. However, it took years to make a good income as a freelancer. But now, individuals have more significant opportunities than ever before. It would help if you went through various things to achieve success in a short time. Many individuals are always indulged in questions like:
How can they work using their smartphone to earn more pennies?
What are effective ways to get more clients?
Individuals need to get answers to every question to get their worth. They can use smartphones, computers, software (such as time-tracking), hardware, and an effective VPN to get everything done systematically. Best VPN selection is essential for freelancers to build an accurate network and get their work done, shows a top IT software survey. However, it also helps them deliver outstanding results and build your profile, helping get more work. Also, choose to get a laptop or computer that works efficiently as most of the work is done online these days.
3. Know Your Target Clients
Finding and knowing your clients is essential for you as a freelancer. As you have just started your journey, it's completely okay to take a little more to get fewer clients. However, make essential assumptions about what you will offer your clients belonging to delivery or other business?
Make sure to target them to attract them and begin working with them; having a clear sense of whether you would love to work with the same client or not can help you go a long way.
Make sure to keep delivery and other businesses happy as it's key to success and will help in increasing your sales force. Try to build a strong reputation within your niche. Also, determine the best type of clients to ensure a successful journey ahead. Ask yourself a question like:
Which type of clients will find your service helpful?
Find clients who can afford to pay?
Which group can ensure steady income?
Why do you need to know about people's interests and demographics?
With the right clients, it becomes easier for you to relate to them. You can choose an effective writing strategy to cater to your targeted customer's needs. Keep in mind that your portfolio work applies to what you do; it can help you start successfully and drive effective results you desire to leverage.
4. Recognize Your Skills
An essential aspect to consider is to search for a skill that you can provide as a service. It can be as simple as transcribing a podcast or crafting a delivery app. Identifying your skills and delivering the same service is critical to grab success.
Next, find whether the skills you have expertise in have demand in the market. If yes, then you can start offering it to clients in exchange for good bucks.
For instance, if you have good design or development skills, you can register yourself to top sites like Fiverr, Toptal, Zeerk, PeoplePerHour, and many more. Here you can find the work as per your skills easily and quickly than ever before. If you find the best listing, then you have good opportunities to grab and earn.
5. Present Skills as Best Option
Find how you can solve delivery business issues with the right skills. Initially, pronounce and identify the issues and find how you can solve them, as most people are ready to pay extra for the solution they receive. For instance, if you have content writing skills or development skills, then provide "content writing," "app development," "blog writing," or other similar services.
Show your previous work to let clients know more about you. You can share live links to your developed delivery app like ubereats, content posted, or other live work. It will help you win more clients' attention and earn more in a short time.
6. Build an Attractive & Engaging Profile
If you have signed up to any platform, then it's just the starting. There is tough competition in the freelancing market as there are numerous people who possess similar skills. So find ways that help you differentiate yourself from others in the market; it will help you attract more customers in no time. And to do the same, you require to build an attractive and engaging profile.
Based on your experience, an attractive profile possesses precise details of the service you are providing to your clients. Hence identify what problems you can solve for your clients. Also, provide information to get them to know how they can contact and work with you.
7. Receive Projects with Right Bidding Strategy
If you want to earn more, then opt for the right bidding strategy. Design an engaging proposal template, make sure it consists of content for every proposal available on online freelancing platforms. Some of the essential points that your designed template must have are:
Charges for the project;
Time required to complete the project;
Define why you are the best option.
8. Guard Yourself
There are various cases that individuals are not paid for their freelancing work. Hence make sure to choose a trustworthy project; you can choose to guard yourself with the contract. Of course, signing a contract doesn't mean that you will be paid, but it will help you present yourself and take legal actions against the client.
Is Freelancing Right for You?
Becoming your own boss is an existing task with numerous challenges on the way. But it's not for every individual. It requires more effort and a hard-working spirit to become a freelancer and get paid on the platforms. Therefore, before starting your freelancing journey, it's essential to know all its advantages and disadvantages as well.
Advantages of Freelancing Includes:
Choose what works for you and how you can make extra money;
Flexibility to work at any time;
Exposure to learn a lot about different niches.
Disadvantages of Freelancing Includes:
You are responsible for paying extra bills;
No extra benefits;
The work is not steady;
Almost you have to work.
Looking at freelancing advantages, it's an excellent decision to start with it. It enables you to test different things and understand the market to get more freelancing work. Have you started working as a freelancer? or looking to start the same? Just consider the above tips to start successfully as a freelancer.